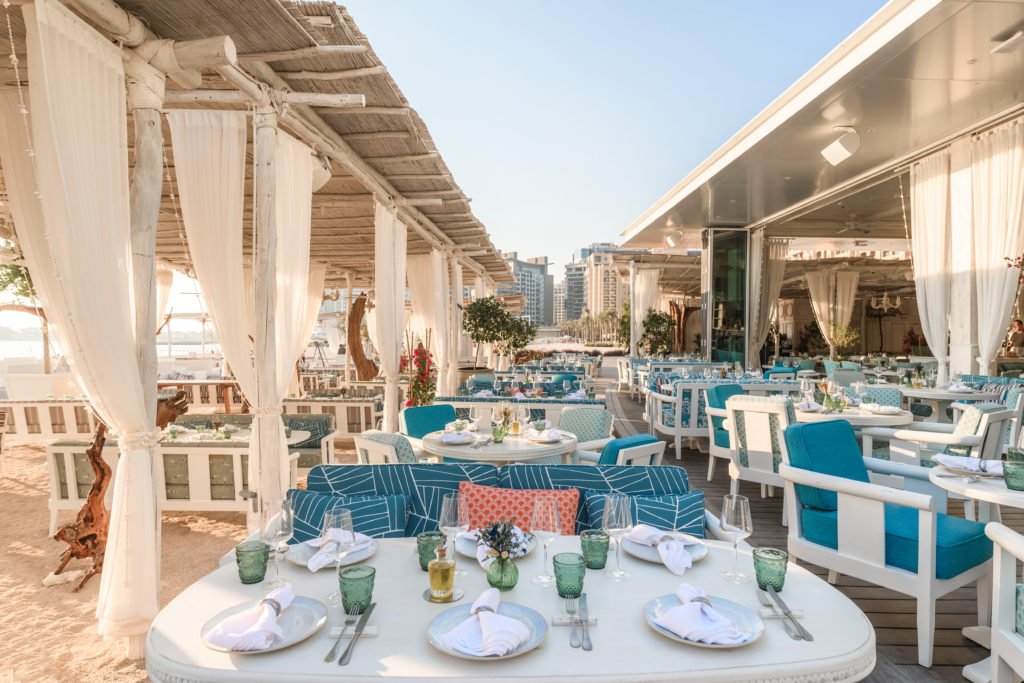 Lucky Fish, the Coastal Paradise on West Beach, Palm Jumeirah

*Lucky Fish <www.instagram.com/luckyfishdubai/>*, the effortlessly chic restaurant and bar has opened its doors on West Beach, Palm Jumeirah. Boasting mesmerising views of the iconic Dubai Marina skyline, Lucky Fish invites guests to revel in the charismatic, graceful and opulent glamour of the Mediterranean. With a rich culinary journey and a lively day to night ambiance, Dubai's latest beachside hot spot promises to bring a laid-back yet elevated experience, showcasing sophistication to cosmopolitan connoisseurs seeking world-class cuisine in a scintillating and energetic setting.
An enviable location on the coastal beach-front, Lucky Fish's interiors reflect a tranquil style with a well-thought-out rustic design concept, perfect for dining no matter the time of day. Elegant 19th Century French chandeliers adorn the ceilings to provide the perfect touch of whimsical romance against the bright and shabby-chic interiors. Linen curtains draped throughout the space and furniture upholstered with exclusive imported fabrics, perfectly compliment the natural and neutral colour palette together with pops of the signature Lucky Fish blue and an abundance of natural greenery. The outdoor terrace is the ideal spot for family and friends to soak up the sun during the day or gaze at the captivating Middle Eastern sunset during cooler evenings. A select number of luxurious beach cabanas adorn the edges of the beachfront, featuring king-size sun beds and sofas with comfortable dining spaces that offers a more exclusive and augmented panoramic perspective.
The menu is inspired by the flavours of the ocean and the Mediterranean region, highlighting Italian, French and Spanish cuisine, showcasing the highest quality seafood and meats. Working with local fisherman, Lucky Fish will present an eye-catching daily display of fresh seafood on ice on its signature, antique sailboat. Highlights from the exquisite menu include freshly served Seafood Platters, mouth-watering Black Angus Carpaccio, indulgent Beluga Caviar, a rich Carabinero Risotto and homemade Spaghetti served with a choice of fresh fish.
Operating a zero-plastic policy behind the bar, Keagan Van Dyk, Bar Manager, encourages guests to order 'out-of-the-box' and explore the creative flavours of his beachside libations. Signature drinks to indulge in include their Lucky Spritz; a contemporary take on a classic with goldberg Yuzu tonic and coconut water, the Rosey Nose; a refreshing concoction of flavours including strawberry, plum, umeshu and sparkling grape and the full-bodied Golden Sands; with roasted nut syrup, hazelnut liqueur and cream. For those who are more health conscious, a generous selection of mocktails feature exotic fruits and flavours including the For-avo Green, with broccoli juice, spinach juice, honey, fresh apple juice and lemon.
The opening of this new dining destination has been hotly anticipated amongst Dubai's social scene and is set to become a favourite destination to unwind and kick-back with an exquisite menu of culinary classics prepared to perfection, elevated with an uplifting and ambient atmosphere that will take guests seamlessly into the late-night hours. Lucky Fish was named to represent the playful yet sophisticated nature of the venue, introducing a fresh spin on the quintessential seaside restaurant and lounge and transporting guests to a coastal paradise.