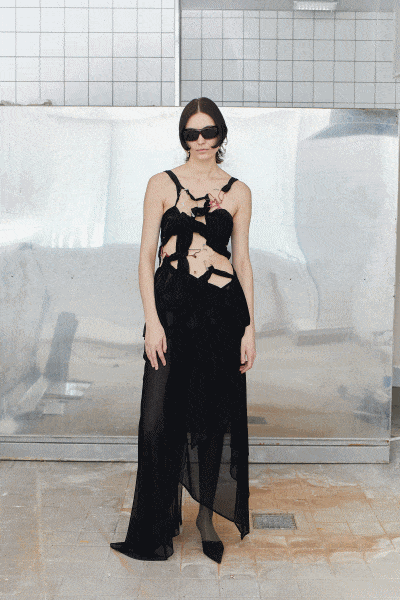 Lou de Bètoly AW21 collection Berlin Fashion Week
*Autumn/Winter 2021-22 collection revealed during Berlin Fashion Week*
For the Fall/ Winter 2021 Lou de Bètoly restricted herself to the usage of three waste elements she occasionally found and decided to work with: A full box of old glasses, a short curtain and a bag of underwear. The setup is sterile. An empty top floor office block where post human dreams cast away in the face of dazzling daylight.

With a true approach of upcycling, craftsmanship is pushed beyond the boundaries of textile work, unexpectedly creating wonderfully embellished material derived from waste.
A container of outworn glasses was the material source of unthinkable garments between the fact of abundant resources we used to know and the science fiction of today. Every part has been decomposed and meticulously reworked into a new life cycle: While plastic frames were distorted and reshaped, meticulous rearrangements have led to Dubuffet-like eye catching gadgets. Temples have been disconnected, warped and embroidered, resembling a techno timeless armor in disguise. The wildly reconnected glass lenses remind of Paco Rabanne`s 60's work, while the tiny nose pads were mixed up and beaded into a net. Not least all metal frames have been reshaped and plated with 25 carat gold to re-enter the supply chain of fine jewellery.
Another facet of the collection was designed from a puzzle of women's underwear, draped and recombined adding an absurd sexiness.
And then comes the « Rufflette » a traditional element, which is used to create curtains. Harmonious distortion led to simple pieces that celebrate some voluminous but minimally shrunken rococo ideas.