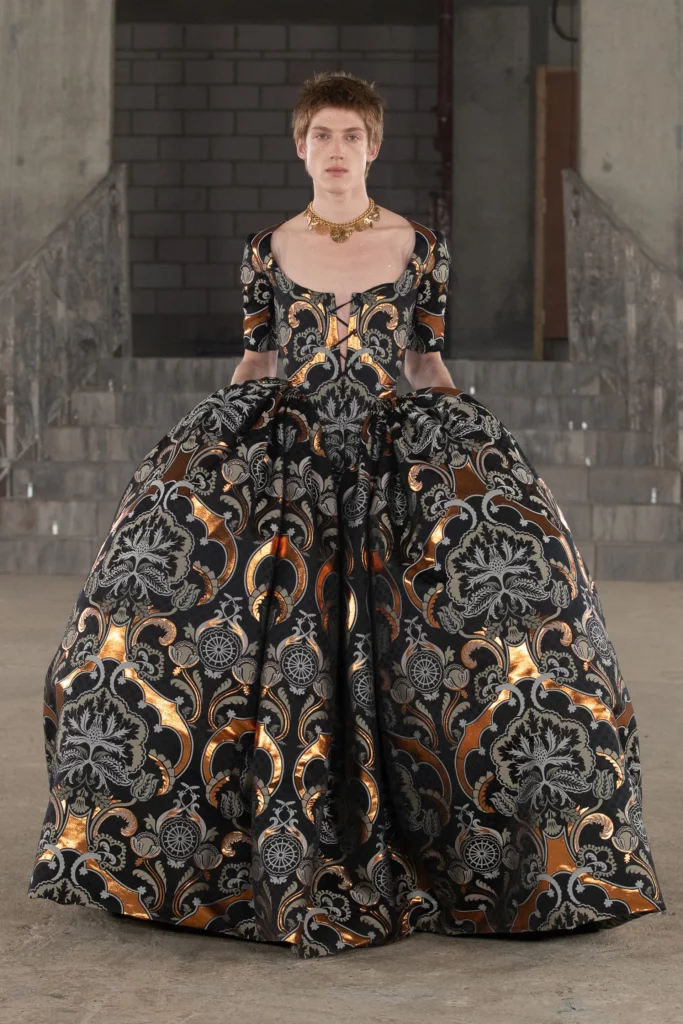 Edward Crutchley – London Fashion Week SS22
Watching the live runway stream from Edward Crutchley's SS22 collection is an incredible treat. The designer takes us through a beautiful journey and tribute to queer culture in London, from as early as the 18th century with a beautiful brocade gown and a lurex crêpe robe à l'anglaise (which we learn from the very detailed and documented collection notes is a close-fitting in both front and back worn in the late 18th century without panniers) that opened and closed the show.
The same collection notes start with a news report snippet from The Weekly Journal, 5 October 1728:
On Sunday Night last a Constable with proper Assistants, searched the House of Jonathan Muff, alias Miss Muff, in Black-Lyon Yard, near Whitechapel Church, where they apprehended nine male Ladies, including the Man of the House. They were secured that Night in New Prison, and Monday Morning they were examined before Justice Jackson, in Ayliff-street; John Bleak Cawlend was committed to Newgate, he being charged on Oath with committing the detestable Sin of Sodomy.
The collection itself is very indulging and opulent with fabulous prints on oversized knits – and pretty much all garments – and a stunning mint/sage green lurex used on some of the mini-skirts, boots and suits. References and inspiration goes beyond the 18th century and mixes different periods in time, which seems a perilous exercise but definitely successful here. Laser beams straight from the 80's and 90's, when London clubbing culture involved competing over outrageous fashion and historically-referenced costumes, make that link. Male and female models wear indifferently what would be considered a traditional womenswear item and vice versa. Gender dressing is a thing from the past and the designer said he's moved beyond the term gender neutral: "I make clothes—they're clothes! I put them on a rack, and then buyers buy for who they think."