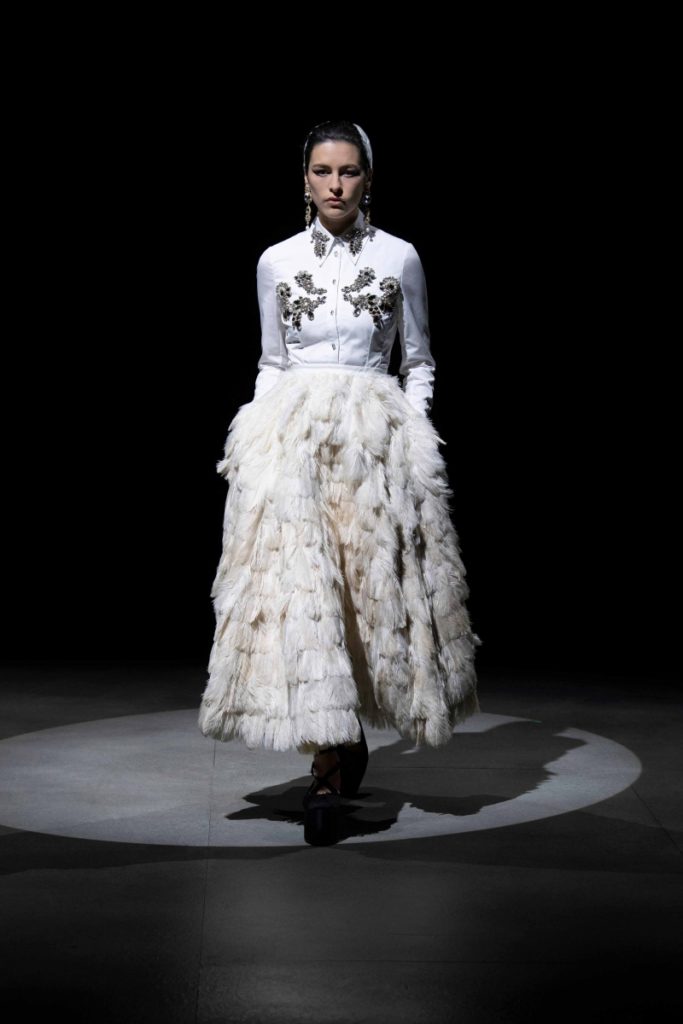 Erdem – London Fashion Week AW21
For Autumn Winter 2021, Erdem takes us to the ballet, more specifically in the wings, this liminal space between onstage and offstage, between public and private. Filmed at The Bridge Theatre in London, the collection captures in a moment that tension of constraints so particular in ballet: the bound, the boundless, the unbound.
The spirit of the collection comes from Margot Fonteyn in the period of her career when she began dancing with Rudolf Nureyev. In 1961 when they first met, Fonteyn was 42 and Nureyev was 23. She was ready to retire, but such was the alchemy of their performance that she danced on for nearly two decades. Their synergy transcended taboo and shattered staid views about the age of a female dancer and the arc of her career. Photographs from this era show Fonteyn off duty, backstage and in rehearsal.
The collection explores these particular juxtapositions of performance and rest, age and expectation, formal costume and informal clothing, variously combined and intertwined.
Among the models are four Royal Ballet principal dancers of past and present: Christina Arestis, Elizabeth McGorian, Zenaida Yanowsky and Marguerite Porter, who danced in Swan Lake with Nureyev.
Rehearsal clothes are mixed with underpinnings and costumes for performance, shrugged on or off as they wait for their call. The strict femininity of ballet costumes and pointe shoes contrast with the comfort of ribbed leggings and long wool gloves, and the slouchy glamour of overcoats and blankets.
The seminal designs of Frederik Ashton are referenced in dresses with oversized jewelled embellishments ofscale, to be seen from the back of the auditorium: organza dresses with sequin feathers and duchess gowns with supersized crystals in pink and red. Feather motifs and ostrich feather hairbands hint at a performance of Swan Lake.
A palette of reds, pinks, black and ecru has a saturated cinematic quality. Large mikado dresses with watery prints like distorted stage projections add a more abstract sense of theatricality.
Nipped in tailored suits and coats bring the ballet mistress to mind.
Several dresses are merged with the underpinning, revealing the structure that holds both costume and dancer in place. Exposed utility makes for a particularly fragile beauty.
Opera coats and voluminous pleated skirts introduce a more powerful glamour.