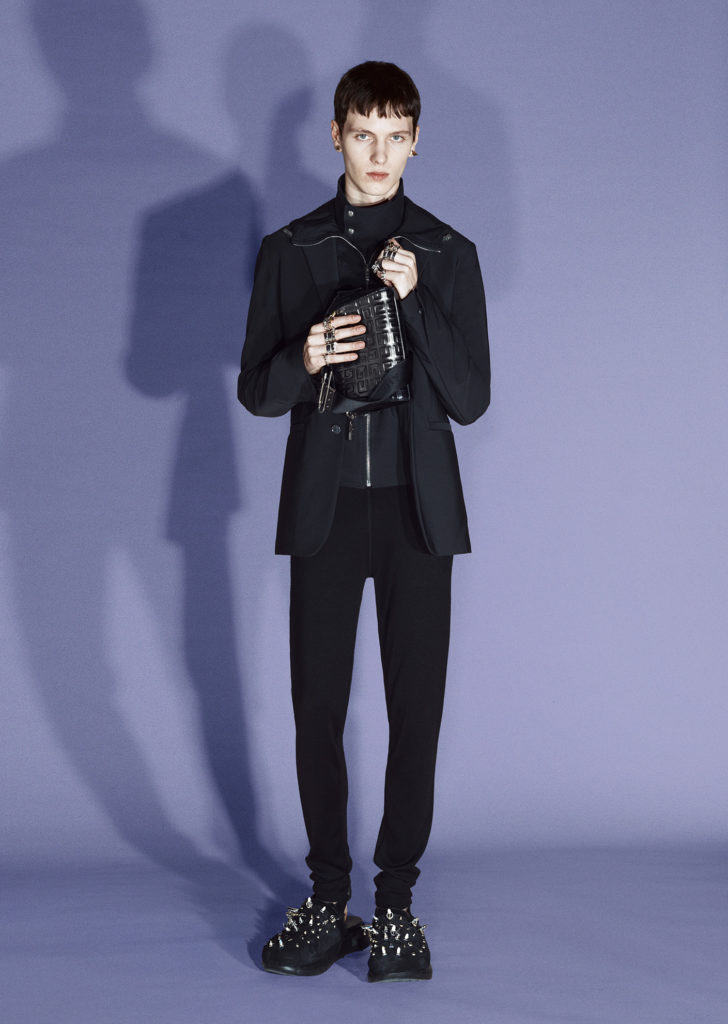 Givenchy Fall 2021 RTW Precollection
GIVENCHY FALL 2021 WOMEN'S & MEN'S READY-TO-WEAR PRECOLLECTION
"Ultimately, what I am trying to do in the Givenchy collections is reflect today's world. I appreciate a certain material experimentation and an intense contrast in clothing that could only be achieved and exist now. At the same time, we embrace tradition, the techniques of the salon and timelessness; these distinct elements are not mutually exclusive. The clothing is not disposable or dictatorial, instead we want it to become central to a person's sense of their own style, and build each season. It's an idea of a more personal luxury, of simultaneous formality and informality, construction and comfort; it's the luxury of people wearing clothes, not clothes wearing people." Matthew M. Williams, Creative Director, Givenchy
Honing in on elements begun in his debut offering for Givenchy, Matthew M. Williams presents a collection of contrasts, both strident and subtle, for Fall '21. Here, both classicism and subversion play a part; focusing on the traditional areas of tailoring, knitwear and leather there is an experimentation with the codes and techniques related to each, together with an ease applied equally for both men and women. Working with a precise, monochromatic palette in looks, the classicism of black, white and silver grey is contrasted with olive drab, vivid red and pink, becoming almost provocative in their connotations.
It is the discreet opulence of materials and methods that matter, found in an array of clothing choices both formal and informal, classical and more radical.
Clothing archetypes are once again experimented with alongside proportion in the silhouettes, bringing together ideas of both the salon and the city street. This is particularly visible in the recurring 'cropped' motif, where jackets echo MA1 bombers, varsity and evening boleros. Signature, sculptural jersey is once again applied to realise pure yet easeful forms, at times literally punctuated with studs. Here, hardware made embellishment – a key Williams' theme for each gender – mainly finds form in the stud this season. The new *4G* *bag* also carries with it a tough yet decorative approach to hardware for both women and men. A constructed attitude to the Givenchy monogram is realised in guipure lace, a motif reinforcing a sense of underlying, traditional, rigorous craft as well as ascendant surface style in the collection.
An idea of a 'second skin' is utilised extensively, predominantly in the use of silk for women and men; both constructed and comfortable, a sinuous sensuousness travels through the collection, particularly in tailoring, This is also found in the leather pieces, where ease, structure and casual non-conformity all come into play. In turn, leather footwear becomes more fully integrated into the actual silhouettes, principally in the use of long, patent leather boots. Comfort is not forgotten in the footwear, with soles formulated using new TPU (Thermoplastic Polyurethane, a bridge between rubber and plastic) techniques. There is also a continuation of the *Marshmallow* Slide – with its extremely comfortable recovery-style sole – mixed with new, natural and more formal materials.
Collaborating on the imagery once more with the photographer Heji Shin, Williams presents a democratic and encompassing view of Givenchy. Here, the focus is on the people wearing the clothes as opposed to the clothes wearing the people – there is not just one Givenchy woman or one Givenchy man, but many. Each brings their own inimitable character and sense of style to the House.