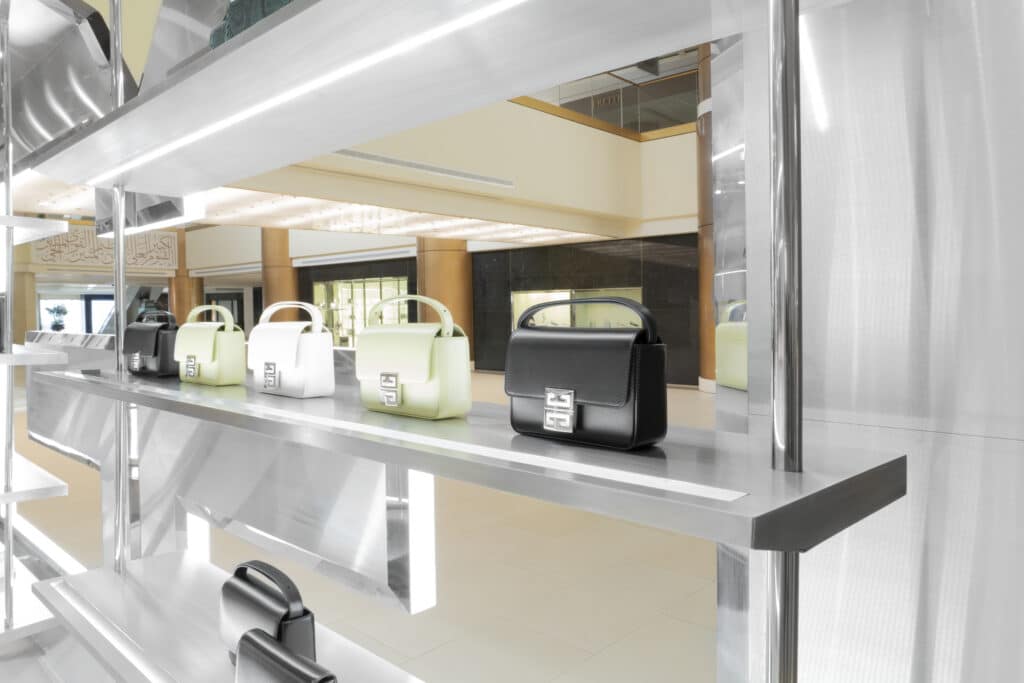 GIVENCHY EXCLUSIVE POP-UP
Givenchy Fall 2021 precollection by Mathew M. Williams, will premiere at an exclusive, pop-up store at Centria Mall, the premier luxury shopping complex in Riyadh from May 3rd to August 3rd, 2021.
Givenchy's latest silhouettes focus on sensorial, enveloping materials, monumental volumes and sculptural silhouettes defined by crisp tailoring and an architectural approach to layering. Likewise, this customized retail environment reprises Matthew M. Williams' chunky G-chain cubes on a massive scale, accentuating the tactile aspect of  materials and finishes via 4G-embossed wall coverings in pink rubber and display elements in polished stainless steel, brushed chrome, and glass
The season's star accessory, the modern and timeless 4G statement handbag, is specially showcased on humanoid sculptures by the British-born artist Ewan MacFarlane. Blending Parisian elegance and studied functionality, the 4G comes in two styles, a flap bag and a chain bagcrafted in full-grain box calfskin with luxurious metallic embellishments reflecting Matthew M. Williams's love of industrial hardware.
It will be presented alongside selected pieces and looks in the Givenchy Fall 2021 precollection, as well as the 4G handbag in classic and seasonal colors (avocado green, baby pink, red and dark khaki) or a special debossed high frequency finish.