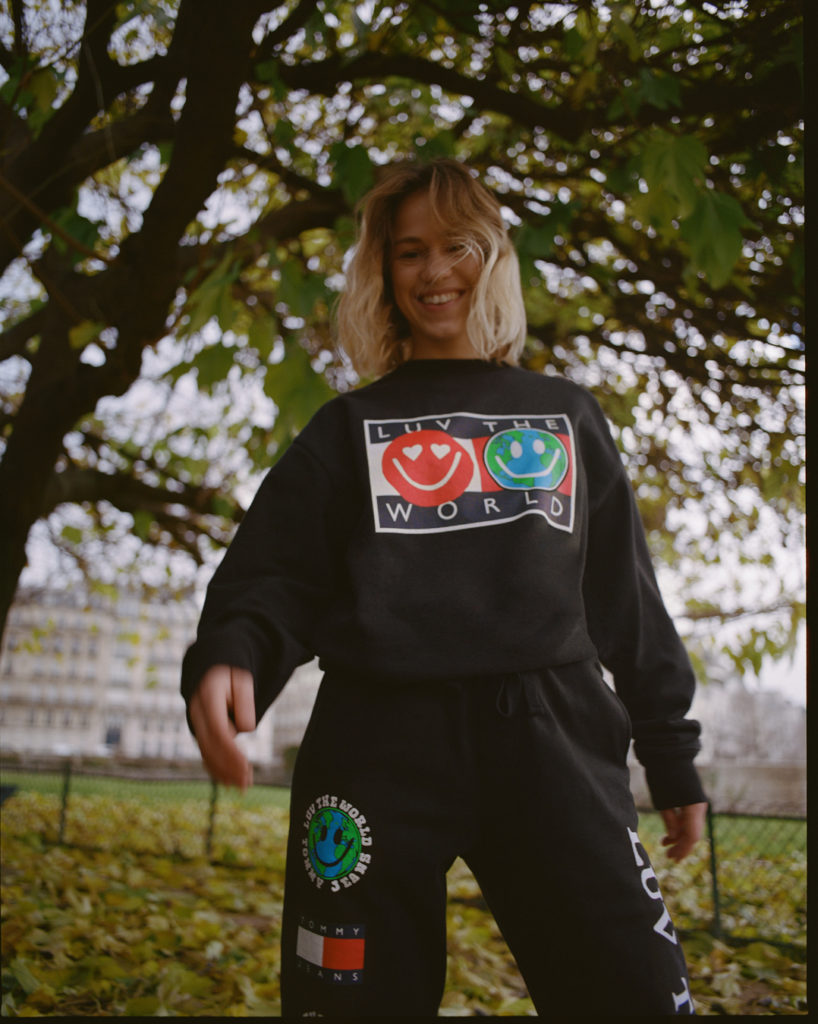 TOMMY JEANS 'Luv the World' Capsule Celebrates Circularity and Inclusivity
Tommy Hilfiger, announces the Spring 2021 TOMMY JEANS 'Luv the World' capsule, which aims to extend product lifespan, fully enable recycling and inspire creative up-cycling. Building on the brand's vision to create fashion that Wastes Nothing and Welcomes All, the gender-neutral range features mono-material styles in 100% recycled cotton and hang tags illustrating do-it-yourself ways to breathe new life into products after use. 
"Over the last 18 months, our brand has made huge strides towards our sustainability goals," said Tommy Hilfiger. "It is so exciting to launch a capsule that embodies our ambitions and takes another step towards becoming a more circular and inclusive brand. The TOMMY JEANS 'Luv the World' capsule goes beyond end-to-end social and environmental sustainability considerations. It aims to inspire fans to join us on our mission to create a more circular, inclusive future of fashion."
All pieces were designed using 100% recycled, 100% recyclable materials and features chemical-free print graphics. The capsule also contains mono-material styles, in which all garment components – from the fabric to the trims and branding – were created from at least 98% of a single fiber. This single material construction is widely considered as best-in-class for circularity, enabling the entire garment to be fully recycled after use. The hang tag recycling suggestions include how to tie-die white T-shirts; how to turn a T-shirt into a tote bag or face mask; and how to turn a hoodie into a dog jacket. 
Drawing from the brand's deeply rooted music heritage, the capsule's aesthetic was inspired by oversized and comfortable band tour merch. T-shirts, hoodies and sweatpants feature tie-dye coloring, funky fonts and vibrant street style graphics including a branded peace sign, heart and planet earth. The message 'Luv the World' can be found across every piece, in the hopes of inspiring positivity and a more sustainable lifestyle.
The 'Luv the World' capsule builds on the Spring 2021 TOMMY JEANS collection, and highlights Tommy Hilfiger and PVH's ongoing commitments to eliminate waste by innovating for circularity and fostering inclusivity and diversity. 
For more information about Tommy Hilfiger's sustainability journey, Make it Possible, and our vision to create fashion that Wastes Nothing and Welcomes All, visit sustainability.tommy.com. Make it Possible is powered by PVH Corp.'s Forward Fashion strategy, a set of 15 priorities designed to reduce negative impacts to zero, increase positive impacts to 100% and improve over 1 million lives across its value chain. 
Fans are encouraged to follow @TommyJeans to join the growing TOMMY JEANS community. In line with their music-inspired heritage, the @TommyJeans Instagram account delivers 24/7 experimental content and pushes the boundaries as a destination for fashion authenticity, self-expression and exchange. Join the conversation on social media using #TommyJeans and #TommyHilfiger.