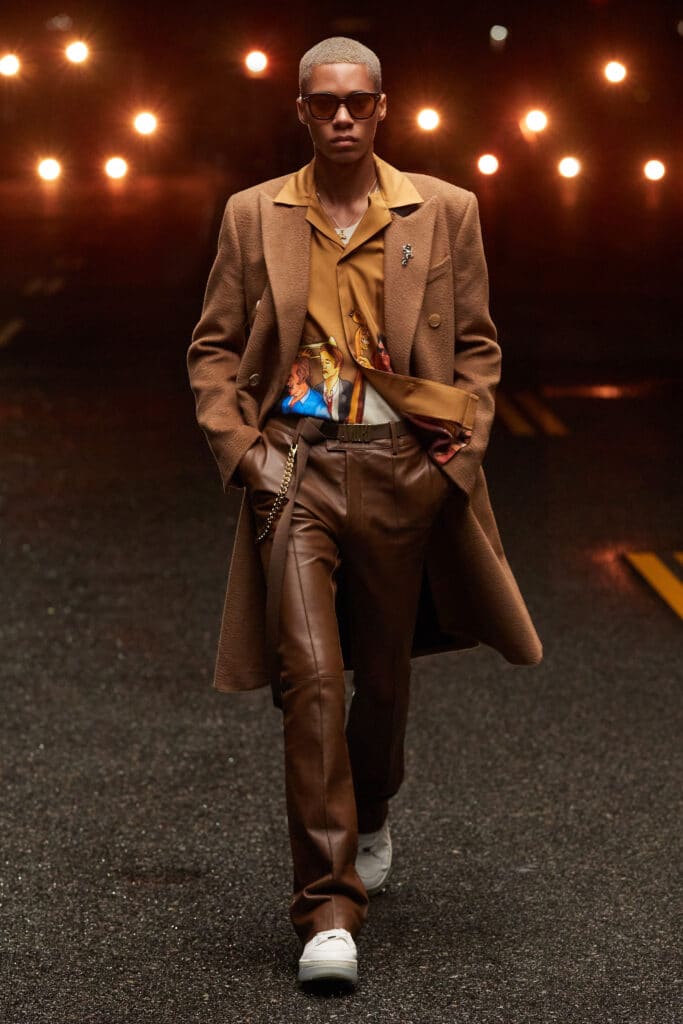 AMIRI Autumn-Winter 2021 Menswear Runway Collection
AMIRI's Autumn-Winter 2021 menswear collection is an homage to the cultural history of Downtown LA, the location of past city's burgeoning arts and fashion districts, and Mike Amiri's first studio in 2009.

AMIRI considers the beginnings of the DTLA era when a wave of artists, interested in the dark romance of the industrial buildings' nightlife, moved there. Rapidly urban colony of creative revolutionaries gathered, sparking a fuse of collaboration, freedom and innovation, today's artistic hub foundations.
It is in tribute to this community that AMIRI paints a vivid interpretation of a new vanguard carving their own distinctive chapter.
With the format of a runway show, the collection is presented as a specially-commissioned cinematic vision.
It is directed by Cara Stricker and soundtracked by four tracks from The Roots curated by Mike Amiri and it is a journey centeredon the 4th Street Bridge and iconic blocks of Downtown LA.
Drawing inspiration from free-form jazz, each character acts on intuition, interweaving their own storylines within collective formations to build a unified poetic narrative.
Black, tan, alabaster and midnight blues, form the palette collection.
They reflect the city's dawn 'til dusk hues as a new silhouette is drawn: outlined by flare pants cut in generous proportions, and slim, cropped bodies layered in voluminous outerwear with defined shoulders, a reference to the gradual shift from tapered shapes to a new wave sensibility.
Tailoring, in subversion of traditional formal dress codes, is softened and crafted with debonair personality. It is layered above sweatshirts, argyle knitwear, turtlenecks and loose cardigans.
To represent the art world's changing of the guard, raditional bouclé fabrics are cut in contemporary shapes and bold
outerwear completes each look: coated trenches, animal-print teddy jackets and double-breasted Italian wool overcoats.
Artisanal motifs are a tour through DTLA: neon-soaked imagery of the city at night evokes an 80s cinematic tone while authentic paint splatter details speak of the arts district, and hand-painted visions of thriving underground music clubs, rehearsal rooms and musical notation evoke the city's rich sonic heritage.
The City of Angels manifests as a new cherub AMIRI motif.
A core line-up of accessories is part of the collection. AMIRI introduces The Stadium as a new footwear style, designed with a refined, athletic spirit that both grounds and elevates silhouettes, while signature Skel-Toe sneakers are revealed in new season colorways. AMIRI's large Triangle Weekender bag is cast in the house's signature bandana pattern, and multipocket harnesses are crafted with the nomadic artist's travelling kit in mind.

Fifteen years ago, is in Downtown LA, an area that had only artist lofts and barrooms, that Mike Amiri conceived his brand. Now, his collection wants to speaks to the enduring beat of downtowns worldwide.