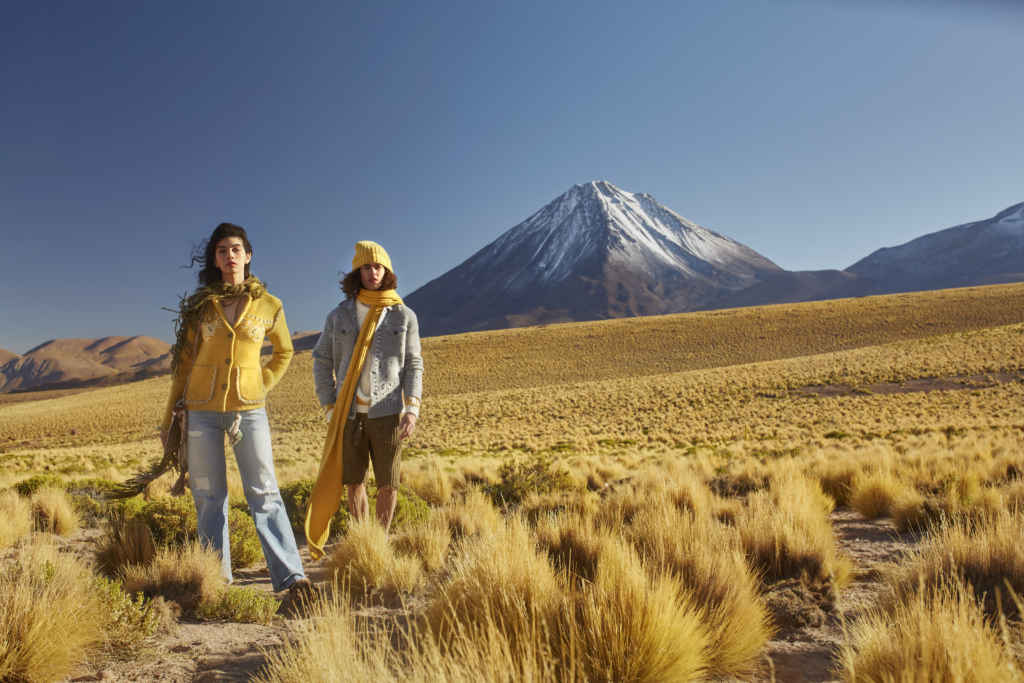 ALANUI Fall / Winter 2021 Campaign: A Journey to the South of the World
The storyline of the fashion movie directed by Ivan Olita, to celebrate the launch of the Alanui Fall/Winter 21 campaign is about two Chilean siblings living abroad, that rediscover a letter written by their grandmother on the day of their birth and feel compelled to embark on a journey to discover their roots and their homeland. It is a poetic and exciting trip on a motorcycle across the harsh and lunar landscapes of the Atacama, traveling through red mountains, dusty roads, magnificent cacti and dazzling deserts of salt. A declaration of love for the land that has inspired Alanui's latest collection.

As a perfect "travel companion", the Alanui undisputed icon garment, the cardigan, is proposed for the FW 21 collection in different styles depicting the Andine highlands, lagoons and deserts, decorated by alpaca figures and geometric multicolor patterns.

In their wish to support local talents and creativity for the making of the movie, Alanui and the director Ivan Olita involved local professionals, from the two young protagonists of the video, to the award-winning writer and poetess Andrea Amosson, author of the grandmother's letter, whose voice was interpreted by an elderly lady from the Atacama. Finally, the young and talented photographer Rocio Mascayano, committed to document the genesis of the campaign and, at the same time, to portrait the culture, landscapes and the unique spirit of the Atacama.

To further pay homage to the magical land of Atacama, Alanui has decided to support a small bookstore located in the middle of the desert, the "Librería del Desierto": an unexpected outpost of culture and love for books in one of the most remote corners of the planet, whose mission is to promote works by Chilean authors and save the prosperous oral tradition of local myths and legends. In collaboration with Diego Álamos, owner of the bookshop, Alanui financed the printing and distribution of an unpublished manuscript by Chilean writer Tomàs Browne, "Stars are the night's chronicles". A first half of these precious first editions will be sold in the Librería del Desierto, while the others will be donated to the Chilean school and librarian system, through the Fundación Palabra, an organization based in Santiago, dedicated to the promotion of reading.

Originally combining science and poetry, Tomàs Browne's essay celebrates the unforgettable starry skies of the Atacama, considered among the most beautiful in the world. Blinding by day, at nightfall the Atacama desert is quickly enveloped by the deepest and most unfathomable dark: the celestial vault, eternally clear of clouds, then shines with the light of millions and millions of stars – as if a window had miraculously opened onto the universe.

"Celebrate the Atacama, because among the stones, the tree branches and the birdsong, you will find me", say the final verses of the grandmother's letter. "When every shooting star appears, under the clearest sky, you will realize that I have never left you." – Andrea Amosso