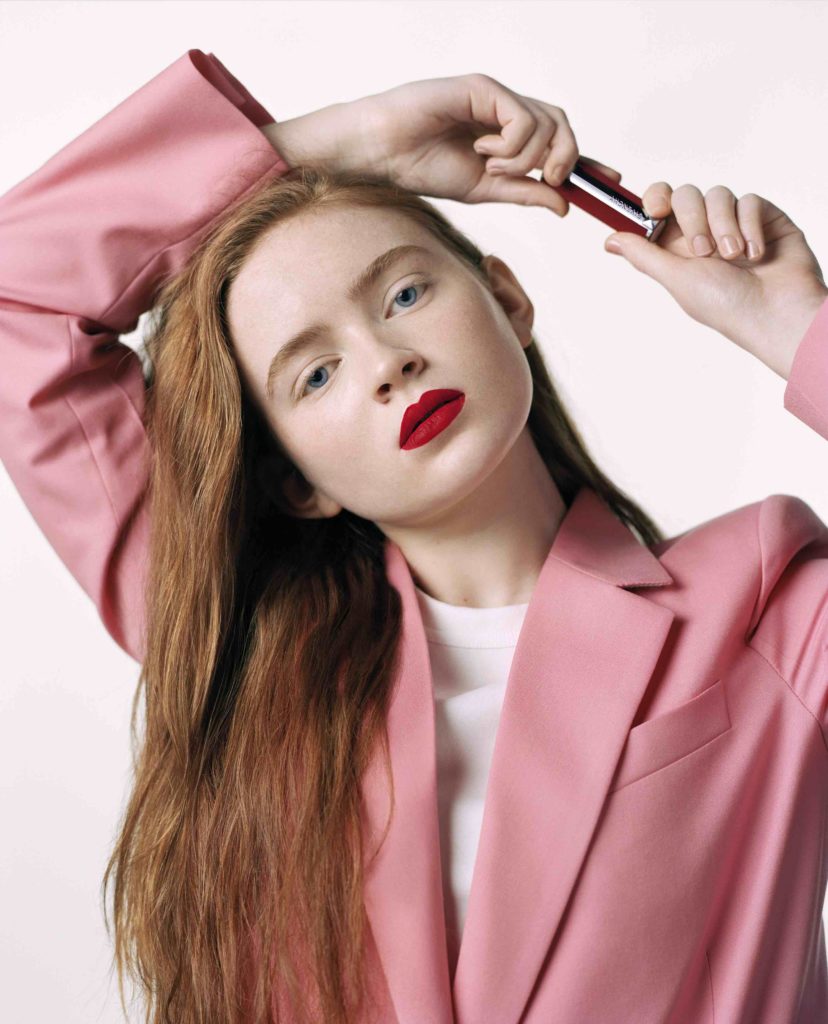 Givenchy: Sadie Sink x Le Rouge
SADIE SINK X LE ROUGE DEEP VELVET
*RISING STAR*
She's a young woman of her time. A unique, assertive, astounding actress. A rising star of cinema, whose beauty is far from classic. In short, she is the embodiment of the new generation of Givenchy women… On the occasion of a striking digital campaign, Sadie Sink celebrates the House's boldest lipstick: Le Rouge Deep Velvet.
She began her career on Broadway as the title role in the revival of *Annie *in 2013. She then went on to appear opposite Helen Mirren in the Tony-nominated *The Audience*, directed by Stephen Daldry in 2017. Sadie joined the cast of the critically acclaimed Netflix hit series *Stranger Things*, where she stars as "Max," a girl who moves to Hawkins with a complicated history and a suspicious streak, alongside the Emmy-nominated cast. She was also seen in the Lionsgate film *The Glass Castle*, based on the Jeannette Walls bestselling novel. Sadie portrayed a young Lori alongside Naomi Watts and Woody Harrelson. She was most recently seen in the film *Eli*, a horror film from Netflix, and next be seen in Netflix's *Fear Street 2*, as well as in the fourth, eagerly awaited, season of *Stranger Things*.
*COUTURE SIGNATURE*
Le Rouge Deep Velvet, a concentrate of edgy style, provides intense, amazingly matte colour from the very first stroke. Its rich, velvety texture glides on lips, covering them in a powdery veil without adding texture. Comfortable and long-lasting, it delivers a 6 hour-long deep moisturising effect and an intense makeup result lasting up to 12 hours.
In just one step, Le Rouge Deep Velvet gives your appearance a touch of utter sophistication. A distinctive Couture signature reinterpreted by Sadie Sink through three iconic looks.
*RED CARPET LOOK*
Sophisticated makeup, for special occasions and memorable nights out. The look's star? Le Rouge Deep Velvet No.37 Rouge Grainé, a rich and passionate red, which is the most iconic shade in the range. To enhance the colour of her lips, Sadie Sink's complexion has been perfected, sculpted by creating points of light on the prominent parts of her face. And the Hollywood facet has been emphasized with some eyeliner at the base of her upper eyelashes, highlighted by a touch of black mascara.
*EFFORTLESS LOOK*
A nude, transparent unified complexion, a mascara-free look, hair let down… Le Rouge Deep Velvet adds a twist to a completely natural look. Especially since because Sadie Sink's lips are made up with one of the most impactful shades of the colour chart: shade No.36 L'Interdit, a particularly edgy deep red.
*PLAYFUL LOOK*
Play it like Sadie ! This utterly fresh look reveals her glowing complexion, highlighted by a veil of light rosy blush. Her eyes are enhanced by a touch of black mascara. Her mouth is coated with Le Rouge Deep Velvet No.26 Fuchsia Vibrant, a daring, spontaneous pop hue, making beauty rhyme with freedom.
[image: page7image48682480]
"I can be calm. I can be funny. And I can also be serious… Le Rouge Deep Velvet gives me boldness and confidence. It boosts my personality." – Sadie Sink