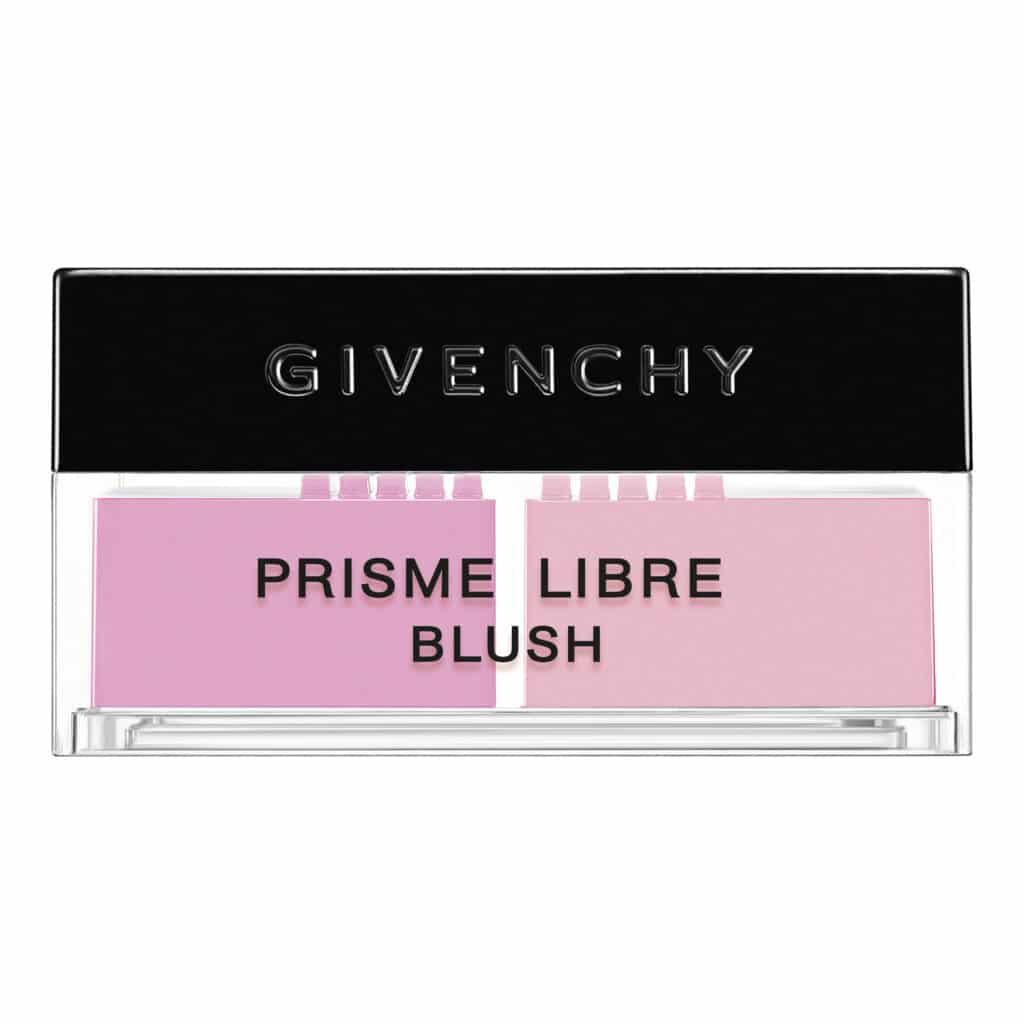 Givenchy Beauty Introduces its first Loose Powder Blush
THE SIGNATURE GIVENCHY GLOW
The Prisme Libre loose powder was conceived in 2006 by Nicolas Degennes, Givenchy's Makeup and Colour Artistic Directo and since its launch, this cult product has established itself as the ultimate light source, and along with it, Givenchy has proven itself as a pioneering brand in the art of mastering light.
In addition to these four complementary loose powders, recently available in new shade harmonies, there is the Prisme Libre Skin-Caring Glow: an amazing hybrid foundation containing 97% ingredients of natural origin*, whose formula includes a 90%** skincare base to act on the skin's radiance, hydration and overall quality.
Prisme Libre Blush with utter lightness, releases colour, boosts your glow, sculpts your face and naturally enhances your cheeks.
* Formula containing 97% ingredients of natural origin. In accordance with the ISO 16128 standard, Parts 1 and 2, the remaining 3% help preserve the formula over time and maximise its sensory texture.
** Percentage of the moisturising base in the foundation excluding pigments and pearlescent particles
4 COLOURS
FOR AN INNOVATIVE GIVENCHY BLUSH
Bright colour lasting up to 12 hours, 12 hour-long glow, natural sculpting effect… A true colour and technique prowess, Prisme Libre Blush unveils its 3D hues. Its distinctive traitis is that it reflects light. The hues are in perfect harmony with your features, from the contours to the prominent areas of your face… And they give your complexion a fresh, glowing, natural effect.
Its amazingly light, exquisite, evanescent consistency allows a glimpse of the skin's natural texture: its specific pigment composition imbues skin with new brightness.
Without leaving any mark or trace, your complexion is instantly sublimated, as if revived with a touch of colour. It glows.
LOOSE ANDON-THE-GO BLUSH
Square-shaped silhouette, alliance between a deep black and a crystal- clear transparency, clear-cut lines, cap featuring the 4Gs and sifter also stamped with the famous logo: the new Prisme Libre Blush stays true to the aesthetic codes of the range.
Convenient and nomadic, it is endowed with a mirror and a built-in powder puff… the ideal ally for on-the-go touch-ups.
The formula's different pigments and minerals help refine your skin. Organic pigments ensure exceptionally pure and rich colours, while photochromatic pigments adapt and adjust to light. All these pigments are micronised, resulting in an ultra-light powder, similar to an undetectable veil on skin.
COLORAMA
Four different colours which blend to give makeup a new dimension. A unique shade is created when they are combined, featuring exceptional transparency and finesse. Multidimensional, natural, it results in a relief pattern.
Prisme Libre Blush is an audacious range of nuances in a 6-shade palette, whose names — in a nod to the Couture DNA of the Maison — draw inspiration from the finest materials… Muslin suppleness, taffeta caress, veil lightness, organza long-lasting quality, poplin finesse or even flannel softness: each makeup harmony echoes, in its own way, one of the facets of this sensual blush.
These universal blushes enhance any complexion. No.1 Mousseline Lilas and No.2 Taffetas Rosé are the perfect match for very fair to fair skin types; while No.3 Voile Corail and No.4 Organza Sienne are designed for fair to medium complexions; No.5 Popeline Violine and No.6 Flanelle Rubis are flattering on medium to dark skin types. These are all suggestions to follow or break free from… Prisme Libre Blush gives free rein to whims and imagination; to any fantasy.

A UNIQUE APPLICATION
Unlike any other application, the distinctive Prisme Libre franchise gesture is also adapted to Prisme Libre Blush, for a soft, diffuse effect:
Shake: place one or two fingers under the powder puff, press on the sifter and shake twice to get the perfect quantity of powder.
Dab your cheekbones or your upper cheekbones, according to the shape of your face.
Blend delicately upwards, using circular movements.
NICOLAS DEGENNES' ADVICE:
For a sunny effect, apply the blush on the bridge of your nose. And for a natural, alive look, sculpt your features by using shades No.4 or No.6 (depending on your complexion), rather than a bronzer.
Within the Prisme Libre range, Prisme Libre Blush becomes part of a well though- out makeup routine and can be used with Prisme Libre Skin-Caring Glow foundation and Prisme Libre loose powder. As a final touch, and combined with a dab of Rose Perfecto on your lips, it gives your complexion just the right amount of colour and freshness…
SUBTLE LIGHT
Who better than Giedre Dukauskaite could lend her innately delicate image to Prisme Libre Blush? The Lithuanian model, Givenchy's new makeup muse, was chosen to embody the Prisme Libre range; she, whose natural beauty and refined elegance have been revealed on the most famed podiums.
Wearing a feathered dress contrasting with a raw decoration, Giedre appears with a fresh face, enshrouded by the purest of lights — that of dawn.
A special atmosphere where everything evokes the new blush! The incredible lightness of the feathers, their glistening hues and delicacy but also the way they capture light so as to instantly brighten up her complexion… An ad campaign conveying the modern outlook of Prisme Libre Blush and focusing on the essential: radiance and colour.
#PrismeLibre
@givenchybeauty @ndegennes