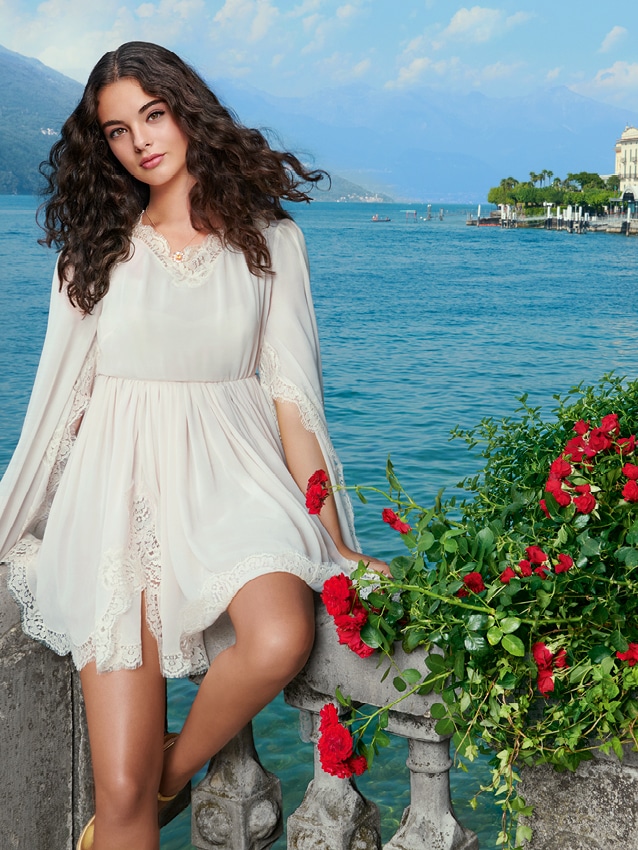 The new fragrance from Dolce & Gabbana
Dolce&Gabbana Beauty introduces Dolce Rose, the first Eau de Toilette in the Dolce collection.
Dolce Rose celebrates the most iconic of flowers. It is indeed a symbol of love, beauty and femininity, one of Dolce&Gabbana's iconic patterns.
The fragrance it's a balanced combination. The sweetness of crisp green apple and juicy mandarin against the tangy redcurrants, join with the succulent white peach, the creamy magnolia petals and the majestic rose.
The flacon still keeps the soft curves and elegant, feminine silhouette of the original Dolce scent, but it has now aluminous rosy hue, to recall the rose, the heart of the fragrance.
To express the vivid personality of the Dolce girl and the captivating facets of the Dolce Rose scent, the iconic flower cap has been reimagined in a vibrant red.
In addition, the bottle is adorned with a thin black grosgrain ribbon, tied in an elegant bow. And, to complete the harmony of the whole, the word 'rose' is inscribed on the bottle in vivid pink, to reflect, once again, the vivacious spirit of Dolce Rose.
The campaign is shot by Branislav Simoncik and stars Deva Cassel as the face of Dolce Rose as she perfectly embodies the vibrant mood and playful energy of the Dolce girl.
Dolce Rose brings a new bloom to the Dolce bouquet, a bouquet that is already flourished with many different flowers. The first bud came with Dolce Eau de Parfum, the delicate combination of white water lily, bold white daffodil and white amaryllis. Then came Dolce Garden with its luscious frangipani blossom, the blended citrus notes with creamy coconut essence and silky almond milk. Next, Dolce Peony brought a riot of colour to the Dolce bouquet, the free-spirited flower symbolizing positive energy and good fortune. In turn, Dolce Shine brought luminous sunshine, combining its solar scent of juicy mango and bright jasmine with the sun-drenched blonde woods. And now thanks to Dolce Rose the Dolce bouquet blooms with even greater abundance.