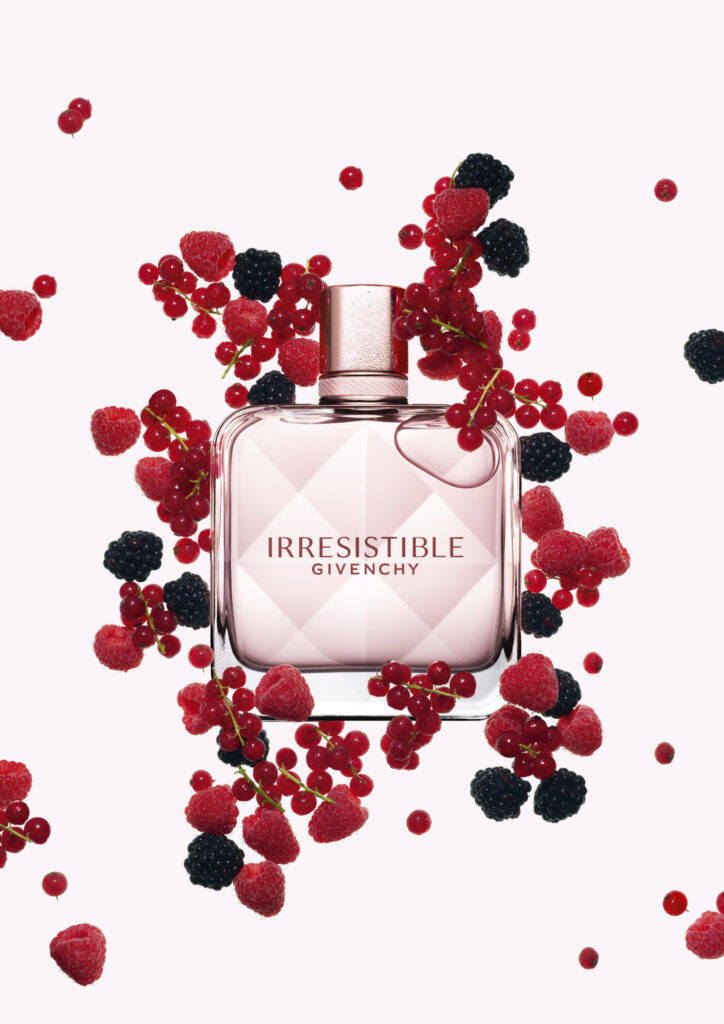 Givenchy Presents IRRESISTIBLE GIVENCHY
Today IRRESISTIBLE GIVENCHY beats with the House's most aerial Eau de Toilette.
The fragrance, embodied by gorgeous Fran Summers, carry on with the invitation to let go initiated by the Eau de Parfum in 2020 and encourages to go even further.
The magnetic impetus of IRRESISTIBLE GIVENCHY is relentless. It is a true concentrate of pure seduction, the fragrance captivates, galvanises, unites… And is echoed in a liberating burst of laughter.
Prismatic, the IRRESISTIBLE GIVENCHY bottle mirrors all the radiance and freshness of the new Eau de Toilette.
Square-shaped with the softest angles, and fine, delicate lines. Its multi-faceted, luminous, glass tinges with rosy hues its gourmand, utterly bright fragrance. A textured pink ribbon is wrapped around the neck of this playfully Couture bottle.
The IRRESISTIBLE GIVENCHY Eau de Toilette, a bright olfactory signature crafted by mater perfumers Fanny Bal, Dominique Ropion and Anne Flipo, introduces a dazzling, fruity rose to a tender musky wood.
This antimorose fragrance showcases the Rose Essential LMR Damascena, farmed on the gentle slopes of the Isparta mountains, in Turkey. Enhanced with a sparkle of freshness by Rose Water, it becomes crystal-clear and aerial. Combined with a very elegant iris, the rose gains texture and is carried away by the sparkling, tangy notes of an exceptional blackcurrant bud harvested in the Burgundy area in France.
When the naturalness of a floral bouquet meets the woody facet of Virginia cedarwood, the ultimate fusion with white musk produces a lingering second-skin effect.
Fran Summers is irresistible because she's lively, vibrant. Magnetic because she remains true to herself. Her crew inevitably follows her: Larsen Thompson, Ambroise Mendy, Lea Elui… free sprits who, like her, freely express striking personalities. They don't imitate one another, but let themselves be carried away, taken to new heights, and it's by letting go together that they can feel free to be unique, irresistibly themselves!
Follow your own flow to better connect with others. A feeling that can be found in the ad film as well as in the digital campaign, where Fran shares a moment of sheer playfulness with her crew, whether it be in a dance hall or under the Parisian sky.
#IrresistibleIsUs
@givenchybeauty