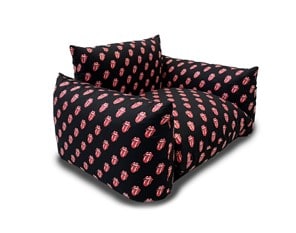 The Rolling Stones and TAKAHIROMIYASHITATheSoloist. collaboration
The Rolling Stones announce a new collaboration between RS No.9 Carnaby and TAKAHIROMIYASHITATheSoloist. The Rolling Stones global lifestyle brand and the sought after Japanese brand have collaborated on an exclusive collection of Marenco chairs and sofas, emblazoned with the iconic Stones tongue and lips logo.
The iconic Marenco sofa originally debuted in 1970 and consists in individual seat, back and arm cushions, and since then, has become a staple for design led living spaces. With comfort and style at the forefront, this furniture is made from premium materials.
The collaboration includes a chair and a sofa in the classic Marenco style, for £5,800 and £9,850 respectively. The furniture can be viewed exclusively at the RS No.9 Carnaby Flagship, at 9 Carnaby Street since the 12th of April. All items are bespoke orders and made in Italy.
RS No.9 Carnaby was created in partnership between The Rolling Stones and Bravado, Universal Music Group's merchandise and brand management company.
This collection follows the TAKAHIROMIYASHITATheSoloist. x RS No.9 Carnaby collection of premium silk scarves available to purchase on the RS No.9 Carnaby website carnaby.therollingstonesshop.co.uk