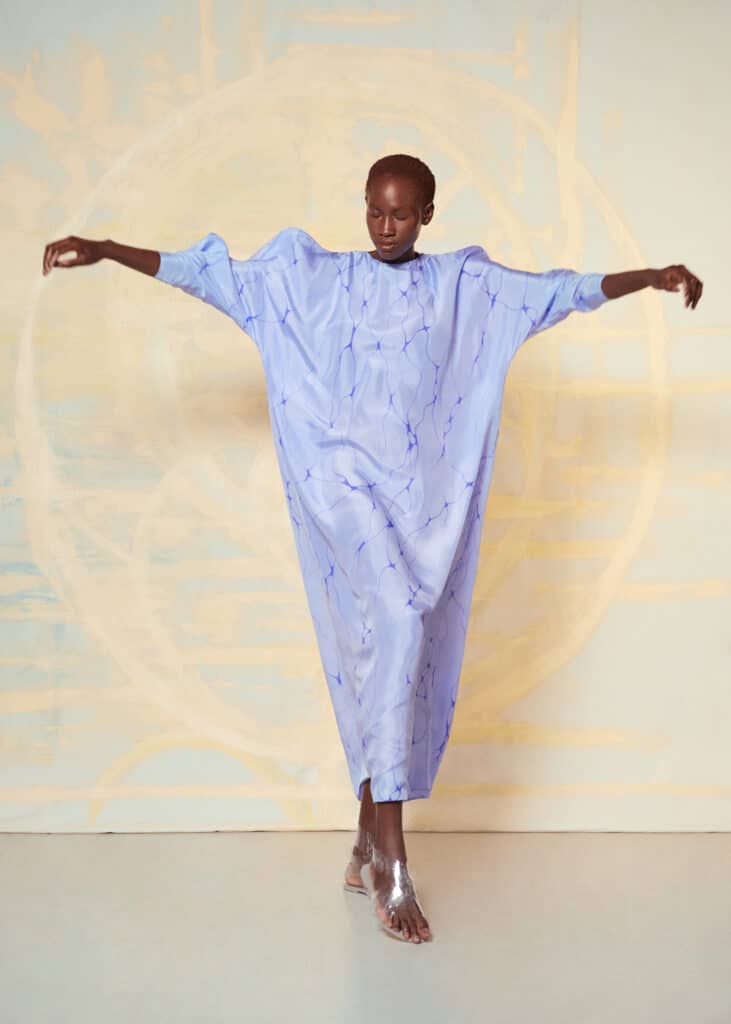 Maison Anastasia Mathiotte Autumn/Winter 2021-22 collection
The latest collection of Maison Anastasia Mathiotte is envisaged as a positive and powerful response to the challenges many of us have been facing latel. Therefore it is titled '4D', opening-up the doors of creative experimentation and spontaneous research. For Paris-based Founder and Creative Director Anastasia Mathiotte, Haute Couture remains an open and liberating field, free from commercial constraints and structural systems. The pleasures -and rewards- of her Haute Couture craft lie precisely in such unplanned gestures, underlining visceral instincts, as well as true generosity.
The concept of '4D' is, indeed a willingness from the Maison to embrace futurism as a leitmotiv, as well as apply its principles to actual clothes. Referencing computer software, and iconic Sci-Fi movies like 'Interstellar' or 'The Matrix', the collection wipes out any sense of nostalgia from our present day, giving way to a bold and assertive language.
Volumes echoing organic shapes, vibrant shades and unexpected fabric treatments seem to express a longing for what's next, paired with a stronger sense of confidence. The designer's use of draping and ruffles feels fresh and uncontrived, while sensual open backs create an element of surprise. A full white maxi dress is effortlessly elegant and comfortable, while a poetically curved shoulder defines the line of a sleek suit jacket. Numbers and words are used as actual embroidery, nicely subverting the idea of Couture embellishment.
A lively illustration of Mathiotte's skills and imagination, '4D' therefore becomes the expression of a unique and original code, which the designer encapsulates within every garment. Creating new meanings throughout her pieces, as well as exchanging thoughts and ideas with her audience, gives Maison Anastasia Mathiotte a unique edge, as well as a singular place within Parisian Couture.