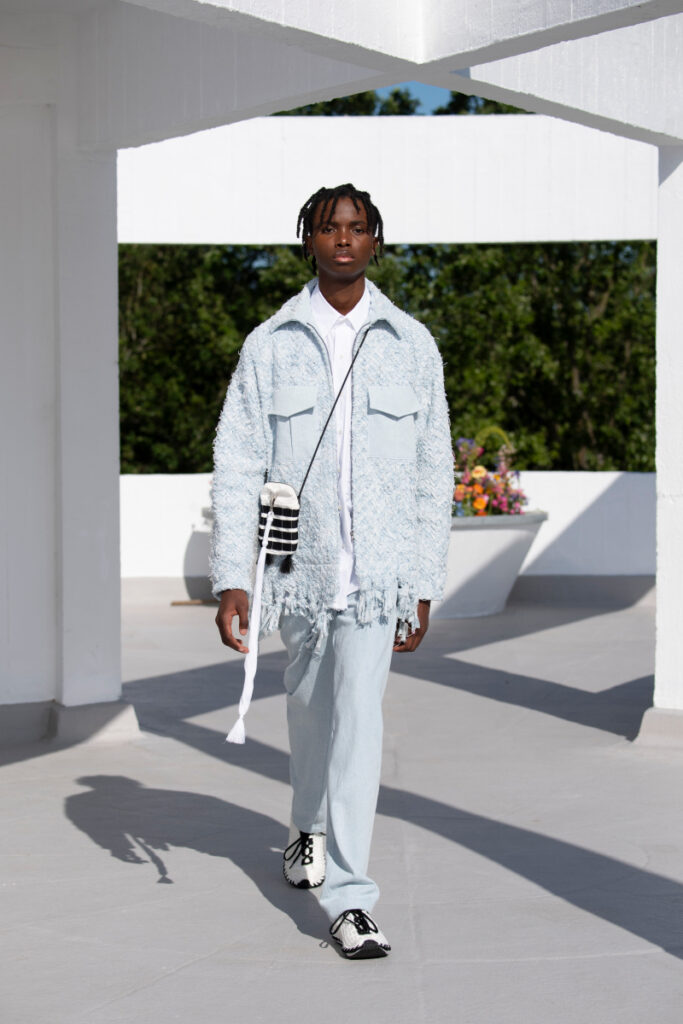 Irthi and 'QASIMI' brand launch Emirati-inspiredSS22 ready-to-wear collection
The handcrafted garments and accessories of iconic London-based fashion brand, QASIMI's Spring/Summer 2022 collection, is inspired by traditional weaving and macramé techniques hand-made by Emirati women artisans from the Irthi Contemporary Crafts Council.
QASIMI's collaboration with Irthi, an affiliate of the NAMA Women Advancement Establishment, draws upon its Middle Eastern heritage. The new collection celebrates the work of the Council's artisans, who are part of its 'Bidwa Social Development Programme', by developing garments and accessories using the traditional Emirati crafts of Safeefah (palm-frond weaving) and Faroukha (a handwoven tassel). In addition to creating a valued women-artisan economy and a sustainable market by merging Emirati crafts and artisanal techniques with cutting-edge design and innovation, the Bidwa programme also creates a new narrative by securing the social and economic future of artisans.
The collection was launched by a virtual show organised by QASIMI featuring a film that gave audiences a sneak peek of the new pieces, highlighting the artisans, the inspiration behind them and the main elements used. Artfully made videos of the collection's journey from idea to execution were also unveiled at the launch. Produced by Irthi, the videos were shot at the Buhais Geological Park in Sharjah, paying tribute to the history of the great geological significance of the site that features an abundance of marine fossils from over 65 million years ago.
Emirati heritage embodied in a contemporary ready-to-wear collection
Safeefah, a traditional Emirati craft technique of weaving strips of dried palm fronds traditionally used to create functional household items, will be adapted by QASIMI's designers to interweave strips of different materials into full garments as well accentuate details such as pockets and create accessories like tote-clutch bags.
The craft of Faroukha, the traditional cotton or silk tassel handwoven by women to decorate the neckline of Emirati men's traditional attire, kandoura, will be adapted to create exquisite drawstring pouches employing vivid two-tone coloured macramé.
QASIMI is a London-based fashion brand founded in 2015 by the late Khalid Al Qasimi. The brand, now managed by its Creative Director Hoor Al Qasimi, focuses on crafting understated and refined garments that reflect its multicultural origins. The brand seeks to initiate a cultural dialogue and exchange through the powerful medium of fashion, while supporting local crafts and artisans.
Adam Rice, QASIMI Head of Design, said in a statement: "By bringing together two unique Emirati crafts and the QASIMI collection we are aiming for authenticity and innovation. We hope to build on this relationship and want to ensure that those who make the craft are recognised and supported."
Honouring the expertise of Emirati artisans
HE Reem BinKaram, Director, NAMA, when announcing the new partnership, said: "Irthi's collaboration with QASIMI, an international fashion brand rooted in Arab heritage, takes the exceptional craft traditions of our Emirati artisans in an exciting new direction. Aligning with the QASIMI label to mark Irthi's debut in designer fashion will showcase the artistic expression and design philosophy of our craftswomen to a more discerning audience."
And BinKaram added: "Irthi's collaboration with QASIMI is aligned with the vision of Her Highness Sheikha Jawaher bint Mohammed Al Qasimi, wife of His Highness the Ruler of Sharjah and Founder and Royal Patron of Irthi Contemporary Crafts Council, to contribute to the sustainability of the vital crafts sector and provide women artisans with opportunities for economic and social empowerment. It is the perfect example of how craft and design can create better opportunities for artisans while offering a refreshing perspective of traditional handmade crafts by infusing them with a global, contemporary appeal."
Irthi Contemporary Crafts Council is committed to the socioeconomic empowerment of women in crafts through the development of sustainable, woman-valued crafts communities across the Middle East, North Africa, as well as South East and Central Asia. It seeks to preserve and promote Emirati craft heritage through engaging young generations with practitioners and their crafts legacy.