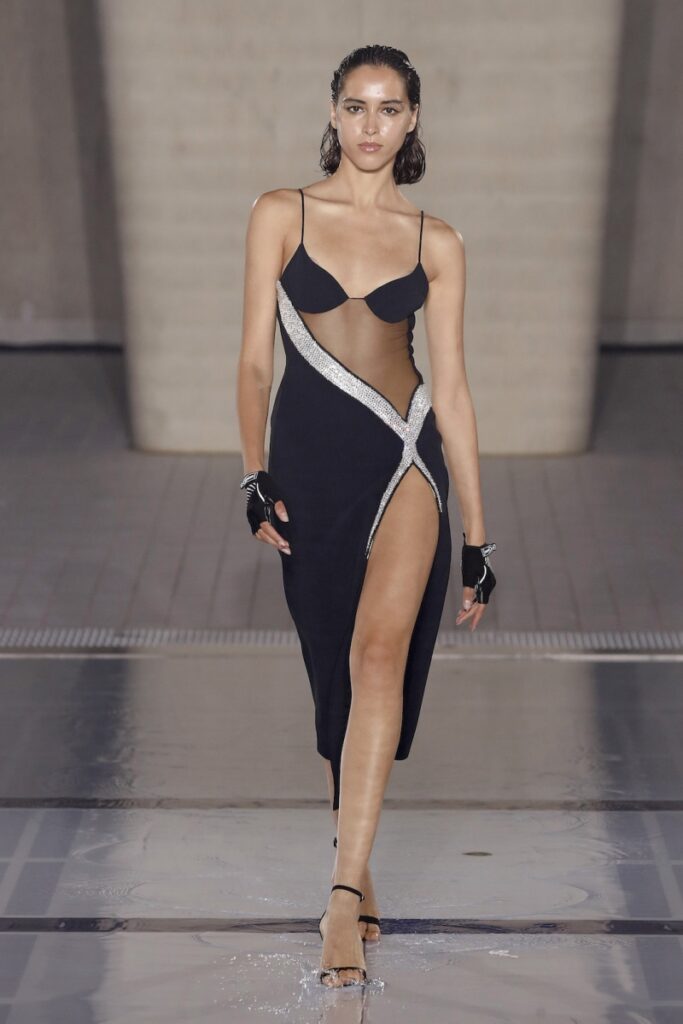 David Koma – London Fashion Week SS22
David Koma's Spring-Summer 2022 collection is quite dramatic (in a brilliant way), mixing sporty with glamorous in the most fabulous fashion.
Filmed at the the London Aquatics Centre designed by Zaha Hadid, the collection opens with tech lycra dresses combined with swimwear elements, and moves gently to super glamorous party and evening wear featuring plenty of encrusted crystals, embroideries, feathers and sequins. The memory of swimwear still appears in outlines and cut-outs on colour-blocked dresses (the colour palette is unapologetically bold throughout, with neon hues of pink, yellow and blue). Transparent sequins create the illusion of garments recently submerged in water. The collection ends with the perfect mermaid.
The designer actually found inspiration in the life and style of the legendary champion Annette Kellerman, who popularised synchronised swimming at the turn of the century. One of the first women to wear a one-piece swimsuit, she was played by Esther Williams (herself a competitive swimmer turned actress and pin-up in the Golden Age of Hollywood) in Million Dollar Mermaid from 1952. Through the choreography of Busby Berkeley, her legacy was immortalised in an inimitable meeting between athleticism and glamour.